Flooring, Moldings and Ceiling Tile Installers in Miami
Hello, we are Silver Star 1 USA! We are professional installers of Decorative Ceiling Tiles, Crown Molding, Flooring and Wall Tiles in Miami, Florida!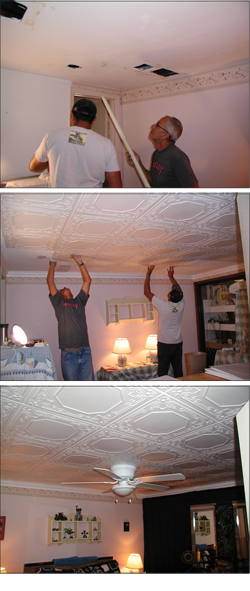 Service is our number one priority at Silver Star 1 USA. We value you as a customer and to ensure your satisfaction, we treat every ceiling tile, Crown Molding and grid installation we perform as if you are our only client. Our warranties and workmanship exceed the industry standards. Moreover, we are always ready to assist you should any problem arise after your ceiling has been completed; whether we installed the ceiling or not are services are available to you.
We not only install new ceiling materials, but we also do all types of ceiling repairs. Services such as; broken and water stained ceiling tile replacement, damaged ceiling grid repairs, tear-outs of old ceiling systems, and we will even assistance with difficult tiles you just cannot get into the grid system. There is no need to worry, we are prepared to help you solve your ceiling system problems. All you have to do is call us to schedule a service appointment so we can take care of all your suspended ceiling needs. Remember, that's what we're here for!
Silver Star 1 USA also Specializes in Flooring sales and installation. We have Hardwood, Laminate, Granite, Marble and Tile flooring.
With Silver Star 1 USA you are covered from product to installation!
Services We Provide:
– Ceiling Tiles Installation
– Crown Molding Installation
– Flooring Installation
– Baseboards Installation
– Ceramic and Marble Flooring
– Door and Windows Trims
– Ceiling, Wall and Flooring Products Sales
We are Licensed and Insured!

Looking for Ceiling and Wall Tile Installers in Miami, FL? Please use the FREE ESTIMATE form on the side to request a 100% free estimate from us today!